Meteozentral Luxembourg
Weather situation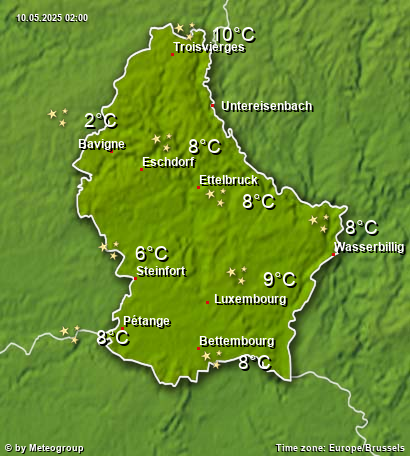 Beetebuerg - On Thursday we can expect sunny weather.
The climate in Luxembourg
In view of its limited geographical extent, the Grand Duchy of Luxembourg hardly presents climatic contrasts. It is characterised by a moderate, western European climate, the weather being largely influenced by Atlantic conditions. This results in mild winters and pleasant temperatures in summer.

The average annual temperature is around 9° Celsius. Temperatures can range from ca. 17.5° Celsius in July to ca. 2° Celsius in January. The average precipitation level comes to 800 litres per square metre annually, with most rainy days occurring in the period from November to January (on average, 20 days of rain per month).

The north of the country, the Ösling region, is characterised by the forested low mountain ranges of the Ardennes, which have an average height of between 400 and 500 metres. This is where precipitation most frequently occurs, especially in north-westerly weather conditions, with something like 300 litres per square metre more than in the other regions of Luxembourg. In view of its altitude, the Ösling region is colder and has more snow in winter than the Gutland region to the south, where the greater part of the country's agriculture is based.

The Gutland region also includes the Moselle Valley, with its eponymous river the Moselle, which forms a natural boundary with Germany. Thanks to its slate rock formations and higher temperatures, the Moselle Valley is noted for its vineyards and wine villages. When south-westerly weather conditions prevail in summer, thunderstorms frequently occur in the Moselle Valley. Thanks to accurate weather forecasting, however, disagreeable surprises are now a thing of the past.

The Lorraine plateau, finally, extends along the French border. On its hills the highest wind speeds in Luxembourg are often registered.